In no particular order, the best furnace brands for 2022 are Carrier, American Standard, Lennox, Rheem, and Trane. Our listings are intended to assist you in narrowing your search, but you should prioritize those who are installing new furnaces.
Each established brand provides furnaces that are affordable, efficient, and guaranteed. Furthermore, the quality of the furnace's installation significantly impacts its performance and durability. As a result, you should hire an experienced contractor to help you choose the "best" furnace brand based on your needs and the manufacturer's certifications.
Please don't dismiss it because it isn't on the list. This guide explains what to look for when purchasing a high-quality furnace. Why are these carefully selected home heating brands deserving of special consideration?
Also check: Oil Filled vs Electric Heater – What's Right for You
What is The Price of a New Furnace?
Gas furnaces typically range in price from $2,000 to $11,000, including installation.
Cost considerations include:
Furnace size is expressed in BTUs. Larger furnaces are more expensive, as are higher BTUs.
Efficiency is measured in terms of Annual Fuel Use Efficiency (AFUE), which ranges from 0 to 100.
Brand: Prices vary by brand as more AFUE becomes more efficient.
Installer: Installation costs vary depending on the technician.
The Top 5 Furnace Brands:
Carrier Furnace:
Carrier is arguably the most well-known brand in the industry. It's not just his 100+ years of industry experience. High-rated air conditioners, heat pumps, and furnaces live up to their reputation. First and foremost, I appreciate that the carrier furnace is affordable to people of all income levels.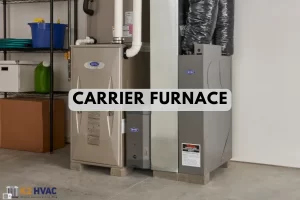 Even the entry-level Comfort series provides up to 96.5 AFUE efficiencies at a low cost. Upgrade to the Performance Line for more comfort and efficiency, which includes: B. Blower motors with variable speeds.
Look to their Infinity series for the most recent heating system performance. Our flagship furnace model, the 59MN7, has an AFUE rating of 98.5% and adjustable fan speed in 1% increments. That's the highest it gets. Not to mention the parts warranty of ten years and the heat exchanger warranty of twenty years.
Standard American Furnace:
American Standard is more expensive, but we believe that an efficient and reliable furnace is worth the extra money. Trane, another major HVAC player on this list, is their asset. Manufacturer Ingersoll Rand American Standard
furnaces, like other well-known HVAC brands, cover a wide range of heating needs, large and small, thanks to a wide range of efficiencies and price options. All of the ancillary features of the American Standard Platinum product are available.
Their gold and silver lines aren't as well-equipped, but they can hit 96 AFUE without breaking the bank. Industry standards are met by a 10-year parts warranty and a 20-year heat exchanger warranty. Stick to the Gold and Platinum lines for added security. The heat exchangers sold by American Standard come with a lifetime warranty.
Lennox Furnace:
Lenox outperforms all other brands based solely on performance. The SLP99V from Dave Lennox's premium signature collection is the best-performing furnace money can buy. It was not cheap, but it was priced at 99AFUE. Of course, most homeowners will not purchase the most advanced furnaces.
The less expensive Lenox Merit and Elite furnace lines are better suited to budget-conscious homeowners. They don't have the Dave Lennox Signature insignia, but that doesn't mean they're not making a significant step. Merit entry-level products can achieve an AFUE rating of up to 96. Lenox customers, on the other hand, need spare parts.
Unlike most brands that use similar suppliers, Lennox builds their HVAC system with proprietary components. As a result, the only way to obtain new parts is from Lennox. This is a process that he notoriously takes a week to complete. You may not require furnace replacement parts. Despite the increased number of repairs, many people continue to regard Lennox as a premium brand.
As long as you keep your furnace registered, Lennox's warranty is pretty standard: 10 years on parts and 20 years on heat exchangers. Their Elite and Dave Lennox Signature products provide a lifetime heat exchanger warranty.
Rheem Furnace:
Rheem may not be as well-known in the industry, but it is arguably the best brand on the list. The Rheem furnace is an excellent choice for low-income homeowners. Perhaps more importantly, Rheem's warranty goes much further.
Many of their products come with a conditional replacement warranty of 10 years or a lifetime.
Rheem will replace the entire unit if a specific part fails during the warranty period. On the other hand, those looking for the latest and greatest technology should not be alarmed. The Prestige R96V, their flagship furnace, only achieves 96 AFUE. It's very efficient but not as cheap as some of our competitors.
We sell products under the Ruud brand in addition to Rheem. Check them out if you want comparable warranty coverage at a lower cost.
Trane Furnace:
As an Ingersoll Rand brand, Trane furnaces have many of the same parts, features, and pricing as American Standard. Trane differs from American Standard because it lacks simple price tiers such as Silver, Gold, and Platinum. Trane instead categorizes its furnace offerings based on efficiency ratings.
They may compensate for this by using their most energy-efficient furnace. The Trane XV95m slightly outperform American Standard's top furnace with 97.3 AFUE. Aside from that, Trane and American Standard are very similar. Their warranties provide the same 10-year parts and 20-year heat exchanger coverage when registered.
Trane and American Standard are essentially the same – minus the badging in terms of quality, dependability, and efficiency. If you can't decide, we recommend following your installer's recommendation.
What Characteristics Distinguish a Good Furnace Brand?
The warranty:
A typical furnace warranty covers parts for ten years and heat exchangers for 20 years (the components that transfer heat from the combustion gases to the air).
Everything else is subpar, but anything more, such as labor warranties, adds security. Manufacturers typically only cover furnaces installed by licensed contractors.
To get the most comprehensive coverage, many brands require you to register your furnace for the first few months after installation. Carrier, for example, provides a 5-year warranty on parts. In addition to a 20-year warranty on heat exchangers for unregistered units. To receive a 10-year parts warranty on all product lines and a lifetime warranty on heat exchangers on Performance and Infinity Series furnaces, register within 90 days of installation.
Also check: Preparing for Winter? Choose The Best Electric Heaters for Your Home
Energy-Efficient Options:
An efficient furnace has a high annual fuel efficiency rating. According to the Department of Energy, AFUE is the ratio of a furnace's or boiler's yearly heat output to the total annual energy consumption of fossil fuels. The best gas furnaces have an AFUE rating of 99 or higher. This means that, except for 1%, all-natural gas is converted to heat.
Another way to look at it is that only one cent of every dollar spent on natural gas for heating is wasted (although heat can be lost through leaky ducts or poor insulation). A high-efficiency furnace is more expensive, but it pays for itself over time. Even those not on the leaderboards sell furnaces with AFUE ratings ranging from medium to high.
Simply browsing our Energy Star Certified furnaces list will provide you with thousands of options from dozens of brands. So it is not only efficiency that requires attention. However, once you've decided on a brand or a few competing options, you may be forced to make a final choice.
Features:
When purchasing a furnace, there are several factors to consider.
Variable speed and dual speed fans: Use lower fan speeds to improve efficiency and reduce noise levels.
Modulated gas valves reduce heat output when necessary to improve efficiency and reduce temperature fluctuations.
Dual heat exchangers extract more heat from combustion gases, increasing efficiency.
Air Filtration: Maintains the quality of the internal air.
Intermittent, direct spark and hot surface ignition systems are more efficient than traditional pilot flame systems. It is not necessary to look for these functions directly. Some or all of these features are common in efficient, high-quality furnaces.
Reliability:
Given that several factors beyond the manufacturer's control influence heating capacity, installation quality, thermostat placement, and insulation level, the reliability figures should not be used to decide.
Nonetheless, our list includes the top brands predicted by consumer reports regarding dependability and owner satisfaction.
Anecdotal evidence, such as customer reviews, is used by many websites. Individual experience is useful, but we wouldn't recommend put too much stock in it when selecting a furnace brand.
Pricing:
One brand may have the most efficient and technologically advanced furnace on the market, but it's not a good choice if it's out of your price range. Fortunately, most brands categorize their furnaces as basic, better, and top-of-the-line to accommodate all budgets. Our selection includes both premium and entry-level models.
Preference For Installer:
The quality of a furnace is only as good as its installation. As a result, we recommend shifting your focus away from brands and locating a reputable, experienced, vetted HVAC contractor in your area. Some of her HVAC technicians may be brand-certified, ensuring proper furnace installation and warranty coverage. They understand that sticking to the brand promotes optimal efficiency and lowers the risk of premature failure.
You Must Understand Exactly Which Brand of Furnace Should I Buy?
Carrier, American Standard, Lennox, Rheem, and Trane are among the top furnace brands, but which furnace you choose makes little difference in the long run. All major brands provide cutting-edge technology, various price points, and comparable warranties. What matters is which furnace is preferred by the contractor and how it is installed. An Amana, Daikin, or Goodman furnace installed by a brand-savvy contractor outperforms a similarly named Lenox.
Disclosure: We may get commissions for purchases made through links in this post.