Are you looking for the best air purifier? These low-cost units improve air quality by removing indoor pollutants and reducing allergies, making them ideal for anyone who has asthma.

The team at K2 MECHANICAL put each air purifier on this list through a battery of tests to determine its performance under various conditions. A particle counter was used in these tests to determine how effectively the machine "cleaned" the air. You can see which model outperformed the others.
We also spoke with experts about the different types of pollutants found in your home and how effective air purifiers are at removing them.
Best air purifiers in our tests
1. Levoit 400S
In our home tests, the Levoit 400S removed the most airborne particles, capturing up to 100% of legroom-to-room particles.
The cylinder shape in a neutral color scheme is a sleek and stylish addition to any decor. Simultaneously, the color-coded display ensures that users always have a clear picture of the air quality.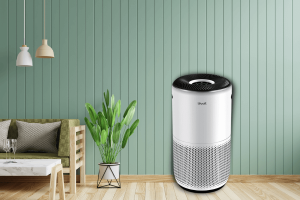 This lightweight air purifier has notched handles on both sides, making it easy to transport from one room to the next.
Users can download a companion app that provides useful air quality data and allows them to schedule and coordinate air purifiers with their busy family calendars. Unfortunately, despite its excellent features, the VeSync app is not always dependable. When the app crashed during testing, I had to uninstall and reinstall it twice.
The Levoit 400S is our top pick for air purifiers because it is stylish, quiet, powerful, intuitive, and simple to use. This is the ideal device if you want an effective air purifier with powerful features that is also affordable.
 WHAT THE USERS SAY
On Amazon, the Levoit 400S has 5 out of 5 stars, with 85% of reviews giving it five stars. Problems with the VeSync app and a lack of robustness in its design have been mentioned in negative reviews. Positive feedback praised the cleaner's accuracy (2.5 microns) and its ability to manage and remove unpleasant odors, dust, and pet hair. Customers love the look of his Levoit 400S, though some say it's a little large. You can also assess how quietly the air purifier operates on low settings.
2. Coway AP 1512
Because of its excellent value for money and high-quality performance, the Coway AP 1512 is a great air purifier. It may not be as sophisticated as the other air purifiers in our roundup. However, our tests show that it removes particles significantly in just 30 minutes. It has four stages of filtration, HEPA filters, and a coverage area of up to 361 square feet. The air purifier is packaged in a sleek and sophisticated design and is available in two colors: black and white.
With pre-filters and odor filters to reduce airborne contaminants, this air purifier is excellent at reducing dust and odors. It is noiseless and is suitable for any bedroom because of its small size.
The Coway AP-1512HH air purifier also has a particle sensor built in. This means you can use the color-coding system on top of the device to monitor the air quality in your home. When the air is clean, it glows blue, purple when it is polluted, and red when it is heavily polluted. The sensor is another interesting feature of the Coway AP-1512HH. You can adjust the fan speed to keep the air clean without fiddling with settings.
The Coway AP-512HH's Eco mode is particularly appealing to me. Turning off the air purifier when air pollution is low worked well to save energy and money. Our testers also discovered that the automatic mode worked well for changing fan settings based on the air quality in the room.
The Coway AP-1512HH air purifier is designed for small rooms up to 361 square feet, making it ideal for small spaces and bedrooms. Look elsewhere if you require a larger area. This is an excellent choice for small spaces.
Also, Read: Honeywell Air Purifier Says Check Pre Filter – What To Do?
 WHAT THE USERS SAY
The Coway AP 1512 HH air purifier has a 4.7-star rating on Amazon, with customers praising its quiet operation, low-cost replacement filters, and overall value. According to negative reviews, the included instructions were insufficient to instruct users on setting up and using the air purifier. The design received positive feedback.
3. Dyson Purifier Cool
The Dyson Purifier Cool is one of the most fashionable air purifiers available. Its unusual design makes it a conversation starter in any room, and simple but brilliant extras like a magnetic remote control elevate it above the average air purifier.
The purifier also functions as a fan in hotter weather, though it isn't as powerful as some users would like. Users can use the Dyson app to activate, schedule, and monitor their purifiers, set fan speeds and timers and check air quality at home or away.
A clever LCD switches between icons displaying real-time air quality data, and an auto-mode detects air particles and adjusts fan settings accordingly.
We burned a series of matches to test how well the cleaner captures particles. The purifier removed 98% of particles smaller than 0.3 microns, 72% of particles smaller than 2.5 microns, and 73% of particles smaller than 10 microns at level 6. We discovered that at level 10, the purifier captured 95% of particles smaller than 0.3 microns, 96% smaller than 2.5 microns, and nearly 100% smaller particles smaller than 10 microns.
Based on these limited tests, our findings do not support Dyson's claim that it can remove 99.95% of particles. However, when used on the highest setting for at least 30 minutes, it frequently captures and performs well, capturing over 95% of the particles monitored—elegant and sophisticated design and smart connected functions.
Alos ready How To Clean Dyson Air Purifier Filter
WHAT THE USERS SAY
At Home Depot, the Dyson Purifier Cool has a rating of 4.2 out of 5 stars. Negative reviews mention the sensor's base value, poor fan quality, and noise when in use. Positive feedback lauds the air purifier's ability to alleviate allergy symptoms and eliminate unpleasant odors. Some have even said it appears to be a work of art.
4. Blue Pure 211+
The Blue Pure 221 is intended to cover up to 600 square feet and is ideal for large rooms in homes or offices. This air purifier's simplicity is key, and a one-touch button allows him to control three power settings.
The Blue Pure 221 consistently outperformed any other air purifier in our home tests. Despite the lack of smart technology, he beat the air purifier for nearly twice the price.
We lit a series of matches to see how well the air purifier absorbs particles. At Level 2, we discovered that the cleaner absorbed 99.7% of particles smaller than 0.3 microns, 99.5% smaller than 2.5 microns, and 100% smaller particles smaller than 10 microns. At Level 3, we discovered that the cleaner absorbed 99.9% of particles smaller than 0.3 microns, 99.6% smaller than 2.5 microns, and 100% smaller particles smaller than 10 microns.
The devices may put some users off. Nonetheless, it's a stylish machine with a well-thought-out design. Customizable fabric pre-filters make it simple to match any home's color scheme.
Our Opinion? A dependable workhorse in air purifiers that values performance over appearance. It's also Energy Star certified and has low operating costs, which appeals to me.
 WHAT THE USERS SAY
Blue Pure 221 has a 4.8 out of 5 stars rating and hundreds of 5-star reviews from satisfied customers. Positive reviews praised the air purifier's performance, saying it improved their sleep, reduced congestion, and improved the air quality in their homes. Many users adore the device's design and are pleased with its smoothness. Performance issues and the cost of changing filters are mentioned in negative reviews, and some users complain that the higher settings are too noisy.
5. Levoit H132
The Levoit H132 is small enough to fit on any desk or shelf, and its low price makes it an ideal air purifier for those looking to try out their first home air purifier. This is a good option if you live in a small apartment or only need an air purifier in one room.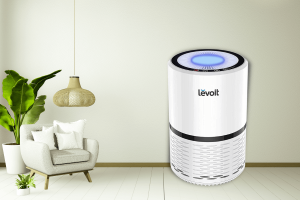 The Levoit H132 may not have the wow factor of more fashionable air purifiers. It lacks style, but it is certainly inexpensive. This is one of the best air purifiers for budget travelers, with a price tag of less than $100.
While this air purifier lacks the HEPA filter that distinguishes premium air purifiers, it does include a built-in dimmable night light, making it ideal for children. It has evolved into an excellent air purifier for bedrooms and bedrooms. The nursery school Although the device cannot be pre-programmed, a memory feature records previous fan settings before shutting down.
Unfortunately, when tested for particle absorption, the Levoit H132 fell short of expectations, consistently falling below the 99.97% achieved by devices with H13 HEPA filters. dropped below
The Levoit H132 lacks many of the features found in smart air purifiers. Its low price and size make it an ideal entry-level indoor air purifier for small to medium-sized spaces.
WHAT THE USERS SAY
On Home Depot, Levoit H132 receives an impressive 4 out of 5 stars. There were only a few negative reviews, and one customer complained about an engine whine after a few weeks. Customers particularly appreciate how quiet the vacuum cleaner is even when set to the highest. According to one user, the air purifier worked so well at improving indoor air quality that he purchased a second one for another room.
 6. KOIOS EPI810
The KOIOS EPI810 is the smallest air purifier we have tested. It is lightweight and compact. It is small enough to fit on any desk or shelf and light enough to take with you on your travels.
A power outlet or USB can power this air purifier. And the simple one-button control makes it one of the most user-friendly air purifiers right out of the box.
We burned five incense cones at a time in our home incense smoke test and then evaluated how well the water purifier worked, with mixed results. KOIOS EPI810 absorbed 99% of particles larger than 10 microns but only 52% of particles smaller than 2.5 microns. His KOIOS EPI810 works well when you want something simple to use, thanks to the sophisticated features of a smart, connected air purifier. However, some users may be discouraged by the noisy high settings and poor performance in our home tests.
WHAT THE USERS SAY
Amazon has given the Koios EPI810 4.5 stars out of 5 stars. Users who gave the air purifier five stars praised its performance and small size. Others have praised its ability to eliminate unpleasant cooking and pet odors. Many reviewers bought multiple air purifiers to use in different rooms. Negative Some customers complain that the air purifier is too loud in the highest setting or that the night light cannot be turned off. Others criticized the device's quality as "cheap" and claimed that replacement filters were prohibitively expensive, costing nearly half the base unit price.
Do air purifiers work?
Air purifiers have also been found to help reduce the presence of particles in the air that cause allergic reactions, which can cause asthma attacks, depending on the type of allergy and the trigger. During times of high humidity, dehumidifiers can also help people with asthma. Air purifiers can be useful in situations where your indoor space has little or no ventilation, especially if you want to combat smoke and its odor.
Click to read some information about vicks air purifier
It is unknown whether air purifiers help to prevent the spread of COVID-19 indoors. If the weather permits, the Centers for Disease Control and Prevention (CDC) recommends opening doors and windows to allow a good flow of air inside. HEPA filters, found in some air purifiers, have been found to remove some viruses from the air.
What are HEPA filters?
You'll notice that most of the air purifiers for rooms we tested have a high-efficiency particulate absorbing (HEPA) filter. These can remove 99.97 percent of air pollutants as small as 0.3 microns, effectively eliminating most indoor air pollutants.
To put things in perspective, most dust particles are about five microns in size, and pollen is a whopping 10-1,00 microns – all of which a HEPA filter can trap and remove.
Air purifiers work by sucking dirty air from home into filters via a fan. These then filter out any impurities before returning the clean air to the room. It's important to note that eliminating all particles that can live on walls, carpets, bedding, and hard surfaces is impossible.
Air purifier benefits
For people with respiratory issues, such as bronchial allergies or allergies, clean air can mean the difference between a living wave goodbye and an international pandemic. We should be extra concerned about the air quality and whether it contains airborne viruses that could make us sick.
More research is needed to determine if at-home air purifiers make a significant distinction for people with bronchial allergies. However, it makes the experience that the purer the air, the easier it's for everybody with respiration issues and allergies. If you have bronchial allergies and need to buy an at-home air purifier, keeping a diary is a good idea to see if it makes a difference in your symptoms. However, keep in mind that an air purifier will no longer remove all impurities, so bronchial allergies must be managed as prescribed by your doctor.
The same is true for people who suffer from allergies; the air purifier can control pollen, and dirt will assist and will, of course, depend on the time of year when pollen counts are higher.
Disclosure: We may get commissions for purchases made through links in this post.