Finding the ideal portable air conditioner for your home can make hot summer days a little more complicated, but the most important thing is to get one that fits your space. Perhaps your windows are too small to accommodate the installed air conditioner, or your ceiling fan stops working when the temperature rises.
Portable air conditioners are ideal for cooling any room in your house. There is no problem if you can connect this device to the outside air. Move the portable air conditioner to where you need it the most. Install the hose and window mount kit to combine indoor and outdoor air. Plug it in, turn it on, and relax in a cool, dry environment. Even better, unlike a window unit, the portable air conditioner does not require the assistance of a second person to install. According to testing, it only takes about 10 minutes from unpacking to cooling the room. Here is a list of the best portable air conditioners if you got a small space. Scroll down to see buying suggestions, followed by a thorough review.
Portable Air Conditioner Working
Mobile air conditioners draw hot and humid air through a cold metal coil. A cooling gas much cooler than room air is contained within the coil. The temperature of the cold coil decreases as air flows over it. This cold air enters the room and cools it by mixing with the hot air. Meanwhile, the device absorbs the water vapour that floats in the room's air.
It makes contact with the surface of the cold coil there. The air vapour condenses on the coil, drips and collects in the pot, which fills up quickly in humid weather conditions. The cold refrigerant gas is sucked back into the compressor, which changes phase and becomes a liquid. All of the heat energy is now concentrated in a small area. A fan blows on this hot coil, releasing heat energy to the outside. Condensed water, or water condensed from the air, can be disposed of in various ways. You can empty the pot by removing it.
Alternatively, the air conditioner can release moisture into the hot parts of the coil, where it is converted to steam and expel as exhaust fumes. In the rare case where a mobile air conditioner is close to a floor drain, direct the condensate through a hose to the drain. In other cases, the hose from the air conditioner drain pan can lead to a condensed water pump that pumps liquid water outside the building or to another drain.
Some portable air conditioners have one hose, while others have two. The single hose unit draws air from the room to cool it and exhausts heated air from the coil's hot end to the outside. The two-hose model is more complicated and may cost more than some single-hose models. One hose draws in fresh air from outside, cools it, dehumidifies it, and directs it to the room. The other hose exhausts hot air from the coil's hot end. The two-hose model reduces the possibility of chilled air being exhausted to the outside and produces a less negative pressure in an enclosed living space. This occurs when an air-releasing device, such as a fan or air conditioner, expels air faster than a home can absorb.
Top Portable Air Conditioners For Small Space:
Black & Decker BPACT14H
Refrigerator FGPC1244T1
DeLonghi PACEM360
Evapolar EvaChill
SereneLife SLPAC10 Portable Air Conditioner
LGLP1021BSSM Portable Air Conditioner
Honeywell Portable Indoor / Outdoor Evaporative Cooler
Black & Decker BPACT14H Portable Air Conditioner
Multipurpose units are always useful. As a result, having an air conditioner that also functions as a dehumidifier is advantageous. On the other hand, this Black & Decker portable air conditioner is even better. It serves as an air conditioner and a heater, allowing it to be used all year.
Furthermore, the BPACT14HWT has excellent cooling performance. It has a capacity of 300 square feet and a rating of 14,000 BTUASHRAE (7,500 DOE). The ASHRAE rating of this air conditioner is the same as that of the Whynter ARC-14S, but it has a lower DOE rating and a smaller maximum room size. This is the benefit of Whynter's dual hose system, which can make a significant difference; however, if Black & Decker's more modest specifications are acceptable, cool weather can warm the room up to about 81 degrees.
However, it has a slightly narrower range as a heater and is only suitable for about 250-300 square feet. You can use the unit as a dehumidifier, adjust the fan speed, set a 24-hour timer, and have it run automatically throughout the day. The large free spinning casters and easy-grip handles make it simple to move. In addition to a convenient remote control, Black & Decker has a simple set of controls at the top of the unit.
Pros:
Cooling and heating abilities
24-hour timer
Easy to move
Cons:
Frigidaire FGPC1244T1 Portable Air Conditioner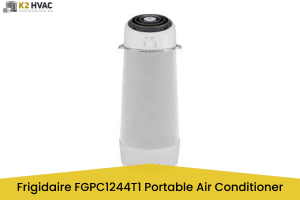 The two distinct design features of Frigidaire make it appealing. It has a powerful and high BTU cooling capacity and a different cylinder shape than the portable air conditioner tested. If you want to automate the technology, the Frigidaire app, which allows you to control this device remotely, is ideal. The machine's control is simple and intuitive. The large front panel, which includes a row of buttons below, allows you to adjust the mode and fan speed. A neatly designed pancake-shaped remote control snuggles up to the device's top. The pancake resembles Honeywell's iconic wall thermostat. It is smooth and round. Finally, Frigidaire makes obtaining service and spare parts simple if the air conditioner fails or wears out.
Pros:
Great cooling performance
Eye-catching design
It can be controlled from a smart device
Provides even air distribution
Cons:
Companion apps are not reliable
Not very portable due to its weight
Whynter Elite ARC-122DS Portable Air Conditioner
Most of the same features, but at a lower cost. This chiller can handle rooms up to 400 square feet and has three modes of operation: cooling, fan only, and dehumidifier. It is equipped with 12,000 BTU ASHRAE (7,000 BTU DOE).
This is a two-hose system, unlike most devices in this price range. One hose serves as an inlet and the other as an outlet, allowing the hose to cool the room without inhaling warm air. It has an automatic drain that removes accumulated moisture, but we recommend purchasing a drain hose (sold separately), especially if you live in a humid area.
Pros:
Three operating modes
Dual-hose system
24-hour programmable timer
Automatic drain
Cons:
The window kit doesn't seal well
DeLonghi PACEM360 WH Portable Air Conditioner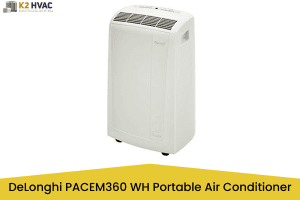 Delonghi's PACEM360 is designed to cool and dehumidify rooms up to 400 square feet. It has an elegant design, high efficiency, and practical features. Given the DeLonghi unit's excellent performance in other tests, it is reasonable to believe that the cooling ratings are correct. The remote control is conveniently located at the top and is easy to see. The 24-hour timer on the device aids in cooling load management. The low setting was created specifically for nighttime comfort and a good night's sleep.
Pros:
Working with Alexa and Google smart speakers.
High efficiency
Best for rooms up to 400 sqft.
Cons: 
Higher cost
Still are single-hose units.
Evapolar EvaChill
The EvaChill from Evapolar is an evaporative cooler. It draws in air from a humid environment rather than a refrigerant to lower the temperature. Although less efficient than traditional air conditioners, this small unit is ideal for small spaces. The entire room cannot be efficiently cooled, but it is capable of cooling an area of approximately 21 square feet around the device, such as a bedroom and workspace. It serves as a nightlight and a cooling and humidification device, making it ideal for sleeping areas. (Please keep in mind that this machine is unsuitable for humid climates.) The EvaChill is extremely small (7 x 7 x 7 inches, 1.7 pounds) and easily fits on your desk or table.
Furthermore, its large tank allows for 4-6 hours of continuous use. It's an intelligent cooling solution for home offices and bedrooms powered by a USB cable. This device is invaluable if you only want to keep your personal space cool and don't need a cooler that looks like it belongs on a spaceship. The device comes in three colours: Ocean Blue, White, and Gray.
Pros:
Affordable
Built-in night light
Extremely quiet
Cons:
Read about Toshiba Portable Air Conditioner
SereneLife SLPAC10 Portable Air Conditioner
Because of its moderately powerful cooling capabilities and overall versatility, the SereneLife SLPAC10 has established itself as an affordable portable air conditioner. SereneLife SLPAC10 is more than just an air conditioner; it can also be used as a circulation fan (the fan rotates automatically to distribute airflow) and a dehumidifier. Available in capacities ranging from 8,000 to 12,000 BTU. This model has an ASHRAE rating of 10,000 BTU (6,000 BTU DOE). You can keep a room up to 270 square meters cool with an airflow of 290 cubic meters per hour.
SereneLife stands just under 3 feet tall and has a 17-inch-by-13-inch footprint. However, the casters are easy to roll, and the sides are easy to grasp, allowing you to move around the house easily. Expect it to be far from the quietest air conditioner on the market. It sounds loud in real life, with a nominal noise level of about 57 dB, and can even bark like a vacuum cleaner. However, it is relatively compact and has a remote control, allowing you to operate it from the other side of the room, but there is also a simple control panel at the top of the unit.
Pros:
Good value
Several sizes available
Easy to move
Cons:
LG LP1021BSSM Portable Air Conditioner
If you have a smart home, you might expect all of your devices to be controlled by apps and voice commands. By selecting the LG LP1021BSSM Portable Air Conditioner, the portable air conditioner becomes as intelligent as a doorbell, thermostat, and alarm system. You can control the air conditioner from anywhere, at home or on the go, thanks to Wi-Fi and compatibility with LG's ThinQ app.
The app lets you start and stop cooling, set the temperature, and switch between fan modes. It also works with Alexa and Google Assistant, allowing you to control the air conditioner with your voice. Although it is not required, this feature is extremely useful. Especially if you're used to turning on and off lights and other devices with your voice, this model from LG has adequate cooling performance.
It can effectively cool a room up to 450 square feet and is rated 14,000 BTUASHRAE (10,000 BTU DOE). Cooling, fan-only, and dehumidification-only modes are available, with two fan speeds and an automatic swing ventilation mechanism that distributes cold air throughout the room.
It has a 24-hour sleep timer (useful if you want to control it remotely and don't care about mobile apps) and an automatic restart feature if the power goes out while it's running, in addition to controlling your smart device.
Pros:
Wi-Fi connectivity
24-hour sleep timer
Auto-swing air vent
Cons:
Honeywell Indoor/Outdoor Portable Evaporative Cooler
An actual portable air conditioner necessitates the use of a hose that vents through the windows. If you don't have that vent space (or simply don't want something annoying), an evaporative cooler is a good option. Swamp Cooler is similar to Honeywell. The indoor/outdoor unit draws air onto the ice loaded into the unit, producing a cool breeze capable of cooling rooms up to 320 square feet.
Even though it is not an actual portable air conditioner, this product is surprisingly effective, particularly in hot and dry climates. It has three humidity levels, a programmable timer that can run for up to 7.5 hours, and convenient remote control.
Pros:
No ventilation required
Three humidity settings
Indoor/outdoor design
Programmable for up to seven hours
Cons:
Works best in dry climates
Not a true air conditioner
Read more about How To Install a Portable Air Conditioner In A Sliding Window
How to Choose A Portable Air Conditioner?
When shopping for a portable air conditioner, look for one that fits your living space and lifestyle. Here are some important factors to consider when browsing virtual shelves, ranging from BTU evaluation to programmability:
BTU Rating
This is the most important consideration because it determines how many square feet a unit can cool. BTU stands for British Thermal Units and is used to calculate a device's cooling capacity. BTU is measured using two different standards.
The first is ASHRAE (American Society for Heating, Refrigerating, and Air-Conditioning), and the second is DOE (Department of Energy) (Department of Energy). Both numbers are frequently displayed next to the model, but DOEs can usually accurately read how the portable unit works in the living space.
According to Forbus, portable AC units typically range from 8,000 to 15,000 BTUs, so selecting the right size for your space is critical. However, you are not required to purchase the highest BTU-rated device. "The more you have, the better; you need the right rating for your room size," says Chris Forbus, owner of Air Care. It will quickly cool down and turn off if the temperature is too high. This will not dehumidify the air and will cause discomfort.
Ventilation
To remove heat from a room, true portable air conditioners must be ventilated through windows, usually via a hose. Forbus recommends placing the air conditioner as close to the window as possible for ease of installation because "the shorter the ventilation hose, the easier it is to manage." Consider an evaporative cooler, such as the Honeywell Portable Indoor / Outdoor Evaporative Cooler, if you don't want to worry about ventilation.
Drainage
Suppose you're looking for a portable air conditioner that also functions as a dehumidifier; keep in mind that it depends on the humidity level in the room. In that case, it may need to be emptied regularly. Some low-maintenance models have outside drainage lines, while others require manual drainage.
Noise level
It is worth checking each device's decibel (dB) rating if you are sensitive to noise. Portable air conditioners can be quite noisy, especially when set to high temperatures. For comparison, moderate rainfall is typically around 50 decibels.
Programmability
There are other facilities to consider once you have mastered the fundamentals. Can the air conditioner be programmed to run on a set schedule? Is it a "smart" device that a smartphone can control? Although not always necessary, additional features make using the machine much easier.
Disclosure: We may get commissions for purchases made through links in this post.