If you're like most people, you probably don't think about your thermostat unless it's either too hot or too cold where you are. However, if you've ever wondered how smart thermostats can save money and make your life at ease, then this article is for you!
Smart thermostats save energy, money, and time. That's a major win for consumers in the long run. People would rather invest in smart home products that help them save money than constantly fiddle with settings and appliances that don't work properly. But to work properly, you must check the thermostat's compatibility with other appliances like a Heat Pump.  Not only that, the concept of conserving energy synergizes with eco-friendly companies like K2 Mechanical, which is looking to provide its customers with an easy way to save money and reduce environmental impact.
Programmable Thermostats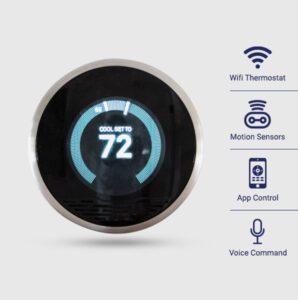 What is a Smart Thermostat? 
A smart thermostat is a Wi-Fi-enabled device that can automatically manage heating and cooling systems. This is done by using motion sensors and monitoring a room's temperature.
How do Smart Thermostats work?
The smart thermostat monitors the temperature in your home and then adjusts it based on your schedule and performance. If you are away and the temperature begins to drop, it will turn on the heat or air conditioning and adjust it back up to your preferred level when you arrive home. This is only one of many ways that a smart thermostat can be useful. Because of their wireless functionality and smart-device compatibility, they can learn and be controlled remotely by a smartphone, tablet, computer, or even by simple voice command. The standard programmable thermostats are programmed to automatically adjust the temperature according to your schedule, helping you save money on energy bills.
How Much Does a Smart Thermostat Save You Money?
Smart thermostats can save users money on heating and cooling. On average, they can save between 10% to 12% on heating and 15% on a cooling system. Based on typical energy costs, it is estimated that the average customer can expect to save roughly $140 per year. The amount of money you can save will depend on several factors, including the size of your home and energy-related practices. But customers can save up to 23 percent on heating and cooling costs. It is estimated that customers could save $200 yearly.
Traditional thermostats are unsightly and difficult to read. Smart thermostats are attractive and modern, with large numbers and an easy-to-read interface. Moreover, people love to save money and reduce energy waste.
Programmable Thermostats
Experts recommend that homeowners hire a professional to install a smart thermostat. The skilled and trained technicians at K2 Mechanical provide an assessment of the installation job, install a smart thermostat, connect the device to the existing WiFi network and set it up on different devices as needed with the mobile apps, and explain commonly used features to give users a familiarity towards the device and its functions. Our qualified service technicians and installers are committed to helping our clients save time, and money and giving the homeowner confidence that the wiring and setup are correct.
Disclosure: We may get commissions for purchases made through links in this post.